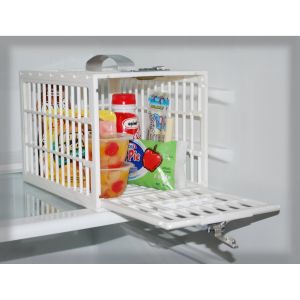 So simple but so brilliant… If you share your fridge with another in college or have a husband on a diet this cool kitchen gadget is for you.
What is Fridge Locker?
The Original Fridge Locker by Locker Brand is designed to keep people out of your food. With this locker you can keep the following people out of your food.
Roommates:  I think this is why this gadget is designed for.  If you have a couple of selfish roommates that keep getting into your food this kitchen gadget is the solution.
Dieting:  It will help your husband with his diet, no more cheating!
Coworkers: You can use fridge locker at Office too.
Kids:  You can put your medications in the Fridge Locker and don't worry about kids  getting into them.
Features
Chrome metal combination lock
Select your own combination
Walls securely snap together and lock
Secures anything quickly and easily and is very portable
Works in the fridge, freezer or pantry