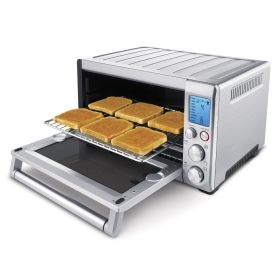 The Breville BOV800XL The Smart Oven, toaster oven that does the thinking for you with is smart settings, eliminating the guesswork and bad surprises.
Countertop ovens are, invaluable in kitchens without full-size ovens, but they also can be useful for people who want to conserve power and avoid using the main oven to cook small things, defrosting and warming. You can use countertop ovens to roast vegetables or bake cookies without heating up the whole kitchen. If you want to learn other great uses of countertop ovens, see 7 Best Uses for Your Toaster Oven .
The Smart Oven  Features and Key Points
The Breville's Smart Oven is an 1800-watt oven with an optional convection setting. Its stainless steel exterior is a 4/5-cubic-foot nonstick interior, five quartz heating elements, and three rack positions.
This oven has 9 menu functions which are toast, bagel, bake, broil, pizza, roast, cookies, reheat, and warm. Each of these functions has a preset temperature and time, which are easy to re-adjust. In fact, the functions, dials, and LCD screen are impressively easy to use and intuitive.
After using we see whether you select the convection option or not, the oven preheats very quickly and cooks evenly which is the most important for us. You can use the energy-efficient convection setting, which cooks more quickly.
And the cool thing about Breville's Smart Oven is it comes with a magnetic wire rack which pulls out when the door is opened. About the pans, it has two 12 x 12-inch baking and broiling pans, and a 13-inch non-stick pizza pan.
Features
Function Dial
Time Dial
Temperature Conversion Button
Frozen Foods Defrost Button
Backlit, Easy-Read LCD
Convection Fan
Pull-Out Crumb Tray
Insulated Dual Wall Door and Glass Window
Included Accessories
13″ (33 cm) non-stick pizza pan
12″ × 12″ enamel baking pan
12″ × 12″ enamel broil rack
What we don't like about this oven is firstly, the timer alert is not as loud as we'd like and it is hard to hear from another room. Secondly, the oven's size is a bit large. It measures 18.5 x 12.5 x 10.75 inches, which might be a problem if you do not have large and deep counters so the size isn't ideal but don't forget it is the oven's size what makes it especially useful for baking and roasting a variety of dishes.
The Breville BOV800XL Smart Oven benefits from fast heat up times, and is energy efficient and the most important is it cooks great so we highly recommend it.