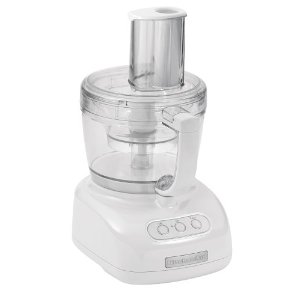 The KitchenAid KFP750 Food Processor is one of the best food processors out there and here you can read why? Most people use a blender for preparing foods such as baby food or frozen drinks but after using this food processor I see it is much more better than a blender. See Best Price
Why Use A Small Food Processor?
Food processors are designed for slicing, chopping, and even purring foods that are solid. With a good food processor, instead of chopping vegetables with your hands, you have the ability to cut down your food preparation time with a processor that can do the job within just a couple of seconds.
What Does The KitchenAid KFP750 12-Cup Food Processor Come With?
The KitchenAid KFP750 comes with the following items:
Dough blade
4-cup mini bowl with blade
The spatula, egg blade and other standard accessories
3 general purpose blades consisting of the 4mm shredding disc, the 2mm slicing disc and the 4mm slicing disc
Dual feed tubes
Main Features of the KitchenAid KFP750 Food Processor
The KitchenAid KFP750 is build with a quiet motor.
Heavy-duty sealed housing makes this machine work quietly.
This processor's dimensions are 16 1/8 ins by 8 5/16 ins by 10 2/5 ins.
The KitchenAid KFP750 is available in various colors to easily fit in with most kitchen
It has a 700-watt food processor with a 12-cup working bowl.
The base can be cleaned by simply wiping.
The blades, bowls and discs are dishwasher safe.
It comes with one year of replacement warranty.
The KFP750 can easily dices, chops, slices and purees any type of solid food with its powerful motor. It can also be used for gentle mincing with just one light touch because of its pulse control. The most important thing is this food processor is very simple to use and clean.  As with most KitchenAid items KitchenAid KFP750 Food Processor is a very durable and reliable appliance too.
Negatives
The KitchenAid KFP750WH may be too large for small kitchens, especially those with kitchen cabinets that are older.
There is a short time delay when you switch off the KitchenAid KFP750 before the blade stops turning completely.
The KitchenAid KFP750, worth the money?
KitchenAid KFP750 Food Processor is an effective and long lasting appliance which is widely utilized for creative cooking. It is driven by a 700-Watt motor and it will easily perform the most challenging work , what is more it comes along equipped with a huge 12-Cup work bowl, 4-Cup smaller bowl, a tall feed tube, and also a number of standard add-ons.
So if you really enjoy cooking and need a small assistant, the KitchenAid KFP750 will come in very handy and worth the money. It is especially perfect for busy individuals who would like to save some time. I can really tell you this is by far one of the best food processors out there.
Check out the KitchenAid KFP750 12-Cup Food Processor at Amazon