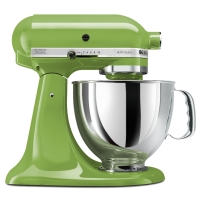 KitchenAid Artisan is made from an all-metal construction; this is why it is very heavy but at the same time offers a built-to-last design. This all-metal construction promises durability but also makes it difficult to move around.
This stand mixer comes in 27 different color options, so it will complement any kitchen design, with any color.
So what's in package, KitchenAid Artisan comes out of the package with a flat beater used for mixing cake batters, a balloon whisk used for adding some fluff into scrambled eggs, and a dough hook used for making loaves of bread easily.

There are no plastic parts used in the construction of KitchenAid Artisan so it's extremely difficult for anything in these machines to break and that's why KitchenAid Mixers last such an incredibly long time. KitchenAid Artisan use direct drive transmission technology which is generally found in commercial-grade mixers so this further adds to the durability of the KitchenAid.
The KitchenAid Artisan has an auto-off function, if the motor overheats to damaging temperatures, it will shut itself off. See Price.
Capacity and Power
The power of this kitchen mixer became apparent when you realized that it is equipped with a nine cup "flour power." Most stand-mixers can not handle even half of this kind of load. So it is also a great time saver.
KitchenAid Artisan 5-Quart Stand Mixer comes with a 5-quart stainless steel mixing bowl with a handle equipped but if you are looking for a glass you can purchase one of those as well.
KitchenAid Artisan stand-mixer features a 67-point planetary mixing action so it ensures that all of your ingredients are completely mixed together. It also features a slow-start feature that will start out slowly mixing your ingredients and slowly increase speed so the ingredients like flour don't fly all over your kitchen.
This kitchen mixer also has a clear pouring shield that will allow you to view the contents as you add them to your mixture. Read another review about a similar mixer, Kitchen Aid Pro600 Review.
Attachements
These stand mixers does much more than just offering you the basics of mixing. With its multi-purpose attachment hub and the juicing accessory, the KitchenAid Artisan easily converts to a citrus juicer. See attachements.
Ease of Use
The basic functionality of any small kitchen appliances is to make our life easier. The KitchenAid Artisan offers really easy to use functions. Its tilt-head design allows easy access to both the bowl and the beater. The C-shaped dough hook allows the stand mixer to knead dough with ease.
Our Review
The KitchenAid Artisan offers so many different features and capabilities that it will definitely be one of the most-used tools in kitchens. With its durable all-metal construction, and metal gears, it is a stand mixer that will stand long years in your kitchen.