The DeLonghi EC155 Espresso Cappuccino Maker is produced by the famous Italian manufacturer. This 1000 watt Cappuccino Maker comes with a black exterior made of durable plastic and equipped with a rust-resistant stainless steel boiler. Because of this combination, an attractive appliance is created for any counter top.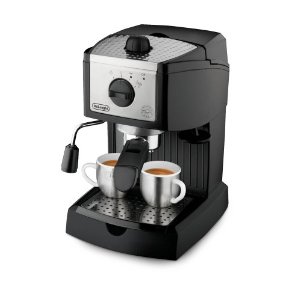 The DeLonghi EC155 Espresso Cappuccino Maker has a compact design, it measures 7.5 in x 9.5 in x 11.67 in so it should be able to fit nicely under most kitchen cupboards.
It features several handy functions. Self-priming functionality helps you to get rid of bothersome start-up preparations and the patented dual functionality filter holder enables the usage of convenient coffee pods or ground coffee making espresso preparation fast and simple. You can adjust the pressure of water and steam with two different thermostats which enable espresso to brew at the ideal temperature.
The The DeLonghi EC155 Espresso Cappuccino Maker is also easy to clean and fill since both the 35 ounce water tank and the warming trays are removable.
You can make a perfect cup of Espresso immediately because using the DeLonghi EC155 Espresso Cappuccino Maker is very easy and it comes with understandable, easy-to-follow instructions. See Best Price
Pump Driven Motor in the DeLonghi EC155
Only a pump-driven motor can produce the frothy, caramel appearance of real espresso because you need a high level of pressure to create the nice foam on the top of the cup. Unlike other cheap espresso makers, the DeLonghi EC155 Espresso Cappuccino Maker is equipped with a high pressure motor and this level of pressure is achieved with a pump.
Pros of the DeLonghi EC155 Espresso Cappuccino Maker
Great appearance
Compact size
Great Price.
Removable water tank
Easy clean up
Pump-driven motor
Cons of the DeLonghi EC155 Espresso Cappuccino Maker
Frothing wand sits low, close to the counter requiring the use of a small milk container
Plastic threads on the frothing wand can strip easily
Ground holder size is a bit small
User Reviews for the DeLonghi Espresso Cappuccino Maker
Awesome pump driven machine for the $$
I was always skeptical of expensive espresso machines and wondered why anyone would pay hundreds of dollars for an expensive machine. It turns out that the more expensive and quality machines are "pump-driven" rather than the typical "steam driven" found at your local Wally World and such. A pump driven machine will hit pressures 4-5 times greater than that of a steam driven machine and gets much better extraction from the espresso grinds (better flavor) and are the only machines capable of generating the "chrema" foam at the top of the espresso.

Great espresso, incredible price!
I love espresso, and this little baby makes a great cup. Here are a few points that might be useful for you to know:

Good points:
-It doesn't take up too much room on the counter and looks nice with it's silver metal accents.
-The water reservoir is a good size, you can make about 8-10 shots before you need to refill it, which is very easy to do, and…

I'm impressed for the price
I've only used the machine a few times so far, but I'm impressed. The machine makes great coffee with excellent crema. At first I was a bit worried as I turned the pump on and noting seemed to come out, but it seems you have to run it for a while to get all the air out of the pump. As others have noted, the cup outlet and the steam valve are a bit low, so you are a bit restricted as to what vessels you can use. I haven't had too many problems with the tamper, and I understand that this was probably a necessary cost saving to achieve the price. All in all a good machine for the cost conscious coffee drinker.