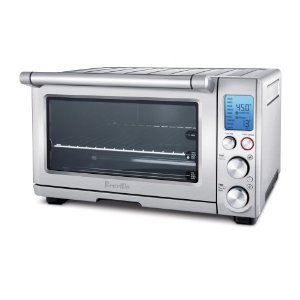 Cooking in small spaces is an art and there are many kitchen tools that can be helpful. A counter-top oven is actually a great solution for small-space cooking which is also energy-conscious.
Here are the ways that how a counter-top oven can be used…
We have played with our Breville Smart Oven which is so much more than a toaster oven. It's just big enough to bake a pie, even a good size round pizza. What is great about it, it gets hot very quickly and has some great features like a magnetic rack that pulls out when the door is opened. A good tool like Breville Smart Oven unit would be a really good choice for small kitchens. It is also very budget friendly for anyone trying to cut back on wasteful energy, and bills. Why turn on and heat up a big oven to bake a small pizza or a potato?
Here are a few ways of using your toaster oven for practical cooking. If you have any other tips please tell us in the comments.
1.    Warming plates before serving. It is more energy efficient and quicker compared to large ovens.
2.    Toast nuts in a pan or a sheet of aluminum foil. 350°F for 10-15 minutes, they taste great.
3.    Make a few cookies, muffins or slice pizza for snacks.
4.    Cook side dishes while the main oven is occupied with something bigger, sometimes you do not want the smells to mix.
5.    Roast small batches of meat or chicken and to re-heat leftovers.
6.    Defrost frozen ingredients; this is one of the best uses of it.
7.    Bake potatoes and melt cheese.
Many people do not like the toaster ovens because they think they don't make toast well. This is partly true, in fact, it does vary from model to model. I use some models and I can say the Breville does a good job and I recommend it.
See Breville Smart Oven at Amazon.